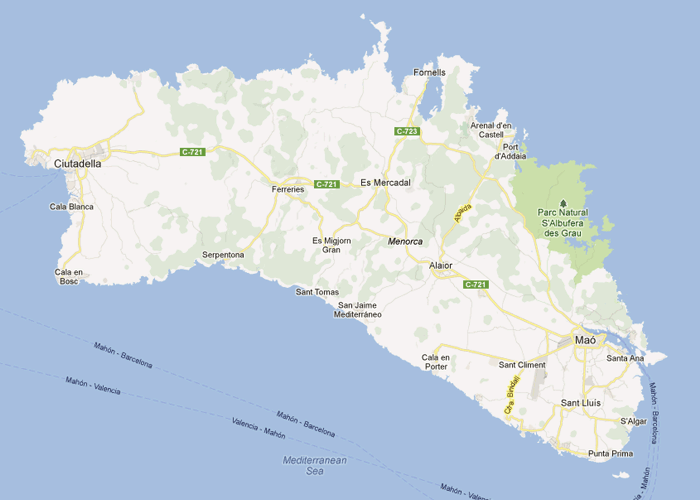 265,000€
Building plot with sea views and with a valid license to build a detached house of about 100m2 with pool and garage.
99,900€
Building plot with urban qualification for an individual-family residential housing system.
Buildable 0.35m2 / m2. Ground floor + 1 in a single house, being a total of 534,8m2 buildable.
Possibility...
233,000€
Building plot located in a fantastic area on the south coast of the island of Menorca.
A privileged place because it allows one to build a beautiful detached house with pool, garden and a great terra...
450,000€
Building plot located in a coastal area, of which a 25% construable area on the ground floor plus 10% on the first floor plus sports areas (swimming pool).
90,000€
Building plot in the quiet Urbanization of Son Parc with its pine forests, beach and even golf course and shopping center ..
The plot is ready for connection to all services.
One can build a house o...
106,000€
Urban building plot located in a residential area where one can build a detached house.
It is a very quiet place and at the same time, the plot is in a very good location because it is close to the h...
90,000€
Building plot of 500m2 and facade of 16m.
Buildable 0.30m2/m2 on the ground floor and first floor with a height of 7m.
It is sold with the license (currently granted) and there is a project to build...
99,900€
Building plot of 1507m2.
This plot has an urban qualification of residential in regime of isolated single-family housing, buildable 0.35m2 / m2, P.B. + 1 abiding by the building ordinances of the are...
190,000€
Building plot with a facade of 7.80m and a depth of 16m.
The total of the plot is 127m2 and has some small buildings. Currently there is a house with a garage.
Good opportunity to build a single-fam...
125,000€
Plot of 334m2 in cadastre and in the deeds as 331,81 m2.
The maximum buildable area of this plot, at the time of consultation, is 280.50 m2 leaving 5 meters from the sidewalk to the facade of the bui...